(This is Day 35 of my 2019 Spring Training Baseball Card Challenge, wherein I examine the card of a player who flamed out early.)
Everybody wants to make a good first impression, and when you're young you really have to prove yourself.
Same goes for when you start a new job or find yourself in a new community.
No matter how much we want to knock it out of the park early on, though, sometimes that's darn near impossible. That goes double if you're carrying a lot of baggage or inheriting a lot of baggage in your new gig.
That's the situation the Texas Rangers found themselves in as the 1972 season dawned. They weren't a new team, exactly, as they winked into existence as part of the 1961 expansion class. But back then, they were the Washington Senators, v. 2. After 11 lackluster seasons in the capital, though, and with only one winning campaign under their belts, owner Bob Short moved the team to Arlington for the 1972 season and changed their name.
Voila! The Texas Rangers were born.
Except … the Senators went 63-96 in 1971, and the Rangers didn't do much in the offseason to polish up the product for their new digs. Indeed, they finished 54-100 in that first season down south and correspondingly drew a paltry 663,000 fans.
After another slow start in 1973 and with attendance still looking bleak, Short needed something to boost his team's profile.
As it so happened, there was a young Texas high-schooler named David Clyde wrapping up his prep career that spring, and the lefty flamethrower was drawing rave reviews from several franchises. There were even whispers along the line of "the next Sandy Koufax." Wouldn't it be great if Short could snag the youngster and keep him in the state?
Well, by virtue of their putrid record the year before, the Rangers held their Clyde destiny in their own hands, and they drafted him with the first overall pick that June. He signed on with the caveat that he'd make his first two professional starts in the Majors before heading to the minors for some good, old-fashioned seasoning.
And so, on June 27, 1973, David Clyde made his Big League debut just 66 days after his 18th birthday. He won, defeating the Minnesota Twins, 4-3.
(Card image courtesy of COMC.com.)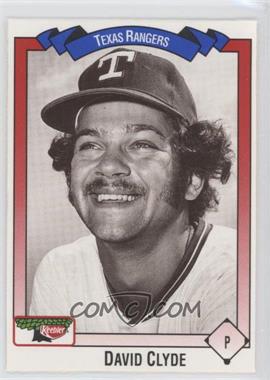 1993 Keebler Texas Rangers – [Base] #106 – David Clyde
Check Prices on Amazon (affiliate link)
Check Prices on eBay (affiliate link)
On July 2, he lost to the Chicago White Sox and should have been done with the Bigs for awhile, but he pitched well enough to turn all that on its ear. Instead of an express trip to the bushes, Clyde was inserted into the Rangers' rotation on a permanent basis, and ended up logging 18 starts. The fact that he went 4-8 with a 5.01 ERA left Texas management undeterred, and they brought him back for another go.
By the next Opening Day, Topps had latched onto the young phenom, too, granting him a solo rookie card in their 1974 set. Heady days.
But heady days tend to run into reality, and, after a 3-0 start to the new season, reality struck Clyde hard. In particular, a colossal argument erupted between new Rangers manager Billy Martin and general manager Bobby Brown about how to handle the youngster.
In the end, Brown resigned and Clyde sat for a month before splitting time between the rotation and bullpen to finish 3-9, 4.28.
He started 1975 still in the Rangers rotation, but he blew out his shoulder after one start. A trip to the minors didn't fix things, and he underwent surgery in 1976.
Two more seasons on the farm left Clyde as an outsider in Texas, and they traded him along with Willie Horton to the Cleveland Indians in exchange for John Lowenstein and Tom Buskey in February of 1978. Though Clyde did land a spot in the Cleveland rotation, his results weren't much better — 11-15, 4.66 ERA in two seasons by the lake.
And then … he was done, at the age of 24.
Clyde did make a comeback attempt in 1981 with the Houston Astros, but he couldn't advance beyond Triple-A and decided to hang up the spikes for good. That might have been the last we heard from him, but snack-maker Keebler stepped into the breach in 1993.
That year, the Elfin folks produced a massive set of 446 Texas Rangers cards featuring black-and-white images of a huge chunk of the dudes who had dawned the red, white, and blue over the team's two decades of existence.
David Clyde made the cut, and we got one last look — and one last reminder — of the guy who became the poster child for how not to handle a hot young pitching phenom.
Check out the entire series of 2019 Spring Training Challenge posts here.