At first glance, the 1966 Topps Mickey Mantle baseball card looks like just your average, run-of-the-mill pasteboard of an American superhero.
See?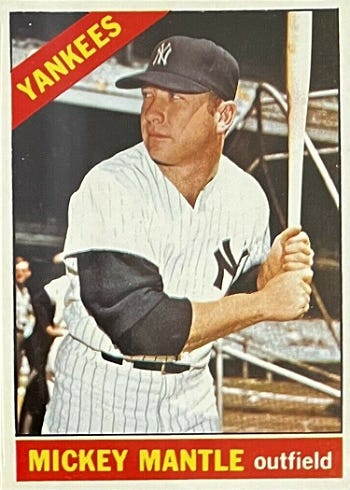 Check prices on eBay (affiliate link)
Check prices on Amazon (affiliate link)
Just Mantle in his pinstripes and midnight undershirt, posing with a bat in front of the cage on what must be a coldish day at Yankee Stadium.
With a plain-clothes stodge looking on in the background, just to reinforce the period of the shot, when all men strove to look like 50-year-old school administrators.
This was Mickey Mantle, centerfielder for the New York Yankees, the next Superman.
It's a simple card, really, and one that's sort of an afterthought in the pantheon of great Mantle cards. It's pretty tough to standout in a lineup with his 1952 Topps, 1953 Bowman and Topps, 1969 Topps, etc., after all.
The back doesn't stand out a whole heck of a lot, either: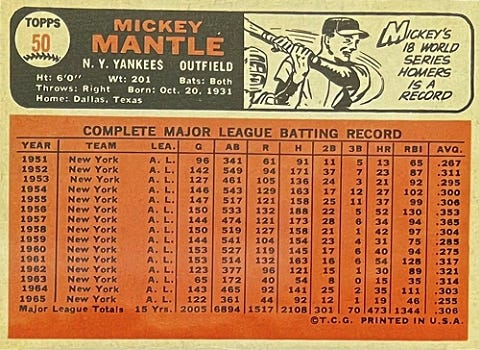 Check prices on eBay (affiliate link)
Check prices on Amazon (affiliate link)
Lots of stats.
A premium number.
A cool little cartoon with a nod to Mantle's World Series prowess.
Nothing much to see …
Well, except that cartoon really is pretty interesting in retrospect.
Even with Mantle slipping to a .255 average in 19 home runs, and with New York sliding to sixth place in the American League, you gotta figure most fans expected a bounce back.
Surely, Mantle would be back to his 30-homer form in no time.
And, certainly he'd lift the Yanks to the World Series again before you could say "Carl Yastrzemski Triple Crown."
Alas, as we all know, the only certain things in life are Def Leppard and Texas.
Mantle and the Yankees were neither of those, though, and they never made it back to the Fall Classic together.
Thus, though the Mick did hit 20+ homers in both 1966 and 1967, he never even took another swing in October, let alone connected on a longball.
The 18 homers stood as his mark.
And, remarkably, through all the changes in the game, and against all the great hitters who have swung through the ages, the mark still stands as the World Series record.
In a way, then, that 1966 Topps Mantle card was a career-capper, calling out one of Mantle's enduring achievements.
One that would stand up to the ravages of time.
One that no one knew was written in stone by 1966.
But one that Topps had the foresight to write in cardboard.